6/20 – Two men found him on their way home from work…chained to the guardrail where he was hit by a vehicle. They picked him up, then contacted ARTBAR for rescue help. Donations urgently needed for medical care. We have named him Holt.
Update 9:25 pm:
Holt is en route to the emergency vet. Thank you Tammy Farley for transporting him!
I'm sure he's in shock and tremendous pain.
His right front leg I think is broken.
Shoulder is enormous.
He's "sleepy" at times.
Breathing hard.
He's hot.
His heart is racing.
He's a nice dog though. No offer to bite me.
He was seen being hit by the car. I have the chain off of him from the guardrail. This was in Logan County WV. I'll be filing a police report.
Update 11:20 pm: Holt is receiving Morphine and will have X-rays once he's good and medicated.
Graphic photos below…I'll leave some space so you don't have to see them unless you want to. Don't scroll down if you can't handle it.
Thank you to the two kind men who picked him up and got him to rescue. We'll do our best to save him.
.
.
.
.
.
.
.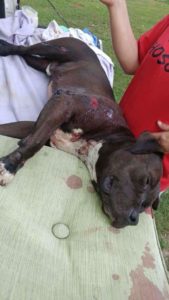 Chain: