Ellie has been moved to a vet in Lexington that can handle the kind of surgery she'll need. Her second x-ray was taken there today and her pelvis doesn't look nearly as bad in this x-ray. Dr. Jude thinks only the fracture that's circled will need to be surgically repaired. The rest are non weight bearing. Oh my lord, am I relieved. 😌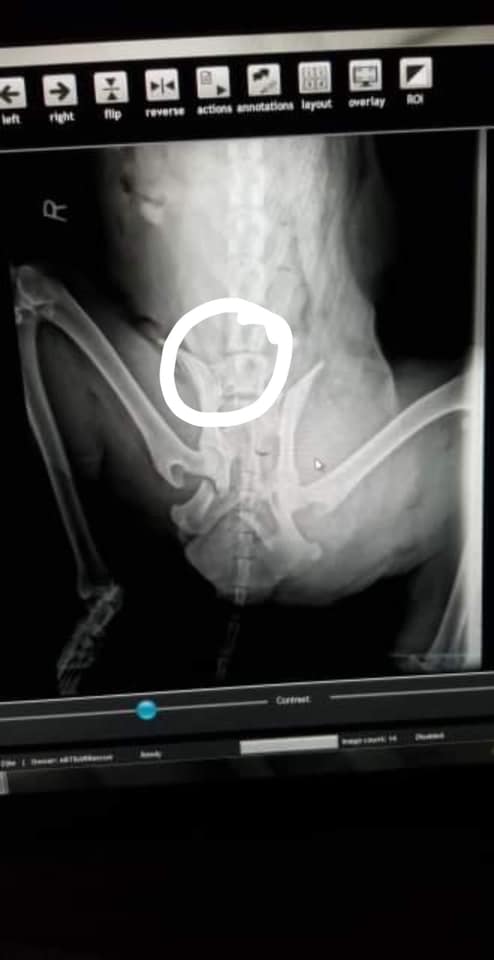 I've been talking to Dr.Jude as she has been examining Ellie and I'm in tears to report that Ellie can move her tail and has anal tone. These are good signs that she could be continent & those nerves are not damaged beyond function.
The official cost of Ellie's trip to the hospital she's at now (including her surgery & hospitalization through Monday) is $3,488.73. The hospital however is being so good to us and is capping it at $3,000 which is such a blessing. Not only was the original estimate between $4,000-6,000 but as you can see by the estimate below, they are willing to even continue to cut the cost.
Everything is looking up for Ellie. Nothing has been nearly as bad as we initially thought: not trying to fundraise, not trying to get her to Lexington, not the injury itself, not the cost, and Loretta has already volunteered to go back and get her whenever is needed.
The first day I wanted to crawl under a rock, worried when I couldn't find a vet to help. But once word spread about her on Facebook, ideas started coming in and now look.
I thank everyone that supports ARTBAR & our dogs, especially the ones that I honestly can't tell you everything is going to work out for.
I know this might sound weird but it's scary to jump into these cases where I know I don't have on hand the resources to fix the problem but I also know if we don't no one else will. Sometimes I don't always know what the right thing to do is even though you guys think I do.
I was worried I was putting Ellie through three vet trips and travel on that crushed pelvis for what could turn out to be nothing but more pain before I would have to put her down.
I was worried she would get all the way to Lexington and need to be put down and I wouldn't be there with her and I haven't even gotten to meet her in person yet. I was worried if we could fix her that she would be permanently incontinent and, worse than that, need her bladder manually expressed…but even this is looking up.
Thank you for believing in Ellie and ARTBAR.